Category Championship - 2013
| | | |
| --- | --- | --- |
| Future Dates: | | 24th August 2014 |
| Future Venues: | | Wells GC |
This year's championship, although not as well supported as in previous years was just as exciting. Forty six players enjoyed a great day out at Brean Golf Club and the weather was fine for golf. Players had to really focus hard once the bank holiday crowd arrived at the leisure park and loud merriment ensued throughout the day.
In the Category 2 championship James Mitchell of Clevedon, playing off 8, posted a very strong 75 to lead the championship for most of the day then, just like buses, two players posted 74 to ease him off the leaderboard. Andy Thomas of Brean, also playing off 8, was 5 over after 9 holes with a double bogey on the 5th. However he stormed in on the back 9 with a stunning 1 under 34 and an eagle on the par 5 14th to lead the championship on 74. Stuart Wills, another Brean player, in the last game was out in 38 and after 2 birdies and 2 bogeys on the back 9 was still favourite with only 3 shots dropped. However disaster struck on the par 3 17th where he had a double bogey to finish level with Andy Thomas. With that stunning back 9 from Thomas he became the 2013 Category 2 Champion.

Andy Thomas with the SGU President Brian Evans and the Brean Club Captain Brian Read

In the Category 3 championship Chris Fairchild of Brean, playing in the first game out set the pace with a steady round of golf; playing off 13 he ran up 9 bogies to play 4 under his handicap and set the standard at 79. He remained top of the leader board the rest of the day until late on Paul McLanaghan posted a 78. This was not without some excitement as Paul was comfortably in the lead by 4 shots coming down the 18th but had a disaster with a triple bogey 7 when he must have thought his chances had gone. Nevertheless his 78 was good enough to win with Chris in second place.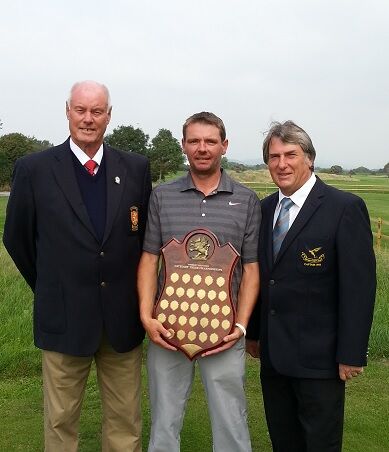 Paul McLanaghan with SGU President Brian Evans and Brean Club Captain Brian Read
In the Category 4 championship Nick Clarke of Windwhistle, playing in the first game out returned a steady 90 after playing one shot below his handicap. He remained at the top of the leader board with no one threatening to displace him until last year's Category 4 Champion, Gary Perkins of Frome, started the chase. Just one shot off the lead after 9 holes Gary needed a 45 or better to force a card playoff or win outright but the shots kept dribbling away. He needed a par and bogey on 17 and 18 to win with 2 bogies forcing the playoff. He double bogied 17 and needed a par on 18 but could only manage a bogey leaving him in second place.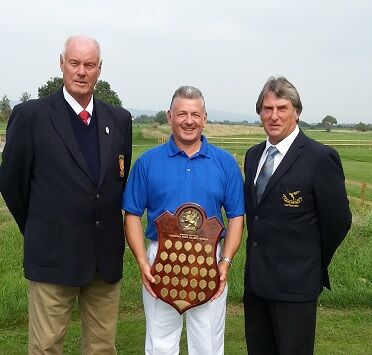 Nick Clarke with the SGU President Brian Evans and Brean Club Captain Brian Read