2019 National Finals
at
HUDDERSFIELD GOLF CLUB
27th -29th September
KENT WIN COUNTY NATIONAL FINALS
Final Table.
| | | | | | |
| --- | --- | --- | --- | --- | --- |
| TEAM WON TIED LOST SCORE PTS | | | | | |
| KENT 2 1 0 12-9 5 | | | | | |
| NORTHUMBERLAND 2 0 1 12-9 4 NOTTINGHAMSHIRE 1 0 2 8.5-12.5 2 SOMERSET 0 1 2 9.5-11.5 1 | | | | | |
| | | | | | |
| | | | | | |
SATURDAY 28th SEPTEMBER
SOMERSET 3 1/2 KENT 3 1/2
A soggy start to the day was an inconvenience for players, officials and spectators alike. A two-and-a-half hour rain delay from 8.30am forced everyone indoors until the weather picked up and the heroic greenstaff got to work on draining the putting surfaces.
On resumption of play shortly after 11am Kent ran into a Somerset side intent on improving from their narrow first day loss against Northumberland and the match finished tied on 3.5-3.5 points apiece.
Liam Burns 3/2, Jensen Hul 7/5l and Tom Sherreard 4/3 all notched convincing wins for Kent while Tom Plumb 3/2, Taylor Stote 4/2 and Sam Fernley 3/2 did likewise for Somerset.
Nerves were jangling as Jacob Kelso and Will Poole came down their last hole – but neither man could eke out a birdie to sneak the win and honours were even.
That allowed Northumberland to head into the final round of games knowing a draw against Kent would be good enough to claim the trophy.
SOMERSET V NOTTINGHAMSHIRE
With Nottinghamshire and Somerset playing for pride in the afternoon the former claimed victory 4-3. The match was difficult to follw as play had begun with a shotgun start (and little time between rounds) to complete in daylight. Phil White, Will Poole and Sam Fernley all lost 1 down, Taylor Stote 6/5 Tom Plumb 3/2 & Tom Burley 3/1 all returned impressive wins. Craig Adams was unable to add the extra point needed for victory going down 4/3
FRIDAY 27TH SEPTEMBER
NORTHUMBERLAND 4 SOMERSET 3
On a wet and blustery day Somerset came a close second as Northumberland edged out the Red Army on the last green.
The overall result was decided in game 3 as Tom Plumb 3 down after 3 came back and was level going to the 16. Tom lost 16 halved 17 and appeared in good shape at 18 to halve his game and the match as his opponents final tee shot flew way right before striking his provisional down the fairway.
His first ball was found in thick rough a few feet from the woods. Able to move the ball to within 30 yards from the green but off to the right and well below the surface his chip shot finished 10 feet past the pin. Toms putt coming up close it was left for his opponent to calmly roll in the putt for a 1 up win.
Wins for Phil Whire Tom Burley and Craig Adams were cancalled out as Taylor Stote Will Poole and Sam Frnley lost. 4-3 is not what had been required on day 1 of 2 but with 2 matches being played on Saturday all is not lost and the overall result may well come down to matches won.
Tomorrow morning Somerset take on today's other winners Kent and Nottinghamshire in the afternoon. We need 2 wins plus a little help as this years championship wil be decided before the poor weather closes in overnight.


THURSDAY 26TH SEPTEMBER
The format for this year's Men's County Finals has been revised with heavy rain due to batter the Yorkshire venue on Sunday.
Kent, Nottinghamshire, Northumberland and Somerset are at Huddersfield GC ready to fight it out for the right to be hailed as county champions.
However, with rain forecast to sweep in on Saturday night and linger into Sunday morning, the Championship team has taken the sensible decision to pre-empt a problem with waterlogging.
Instead of a round-robin format featuring foursomes and singles matches across Friday, Saturday and Sunday the championship will now be played to a conclusion over just two days.
All four counties will still play each of their rivals, but the matches will now consist solely of seven singles games.
Each county will play one match on Friday and follow this up with matches two and three on Saturday morning and Saturday afternoon.
EYEING A PLACE IN HISTORY
Somerset and Nottinghamshire are both eyeing a place in the history books when they take part in this week's Men's County Finals at Huddersfield GC.
Neither county has ever won the prized trophy which has been the subject of fierce competition ever since the event was first staged at Formby in 1926.
By contrast, the other two finalists – Kent and Northumberland – have enjoyed past success although you need to delve deep into the records to discover their achievements.
Kent's solitary victory came in 1978 when they claimed the prize at Frilford Heath.
Northumberland gave a new meaning to the phrase 'Swinging Sixties' when they ruled the roost in 1960, 1962, 1964 and 1965.
The winners of the northern qualifying section will enter this year's event with their tails up after City of Newcastle Golf Club lifted the England Champion Club trophy last weekend.
The trio of Alex Dixon, Phil Ridden and Andrew Minnikin were victorious at Romford GC to book a place at the European Men's Club trophy at Golf du Medoc on October 24-26 and form the core of the seven-man team for this tournament.
Should they carry forward last weekend's form then Northumberland will surely be the team to beat.
The four counties will compete at the renowned Yorkshire venue over Friday, Saturday and Sunday having all won regional qualifiers to make the finals.
The format for the three days of round-robin competition is as follows;
AM – Three games of foursomes. PM – six games of singles.
Two match points per day will be awarded for a win and one point for a half. If counties are tied on match points at the end of the competition then the winners will be decided by the overall games points tally.
If counties are still tied then the head-to-head record will come into play and if they still can't be separated then the title will be shared.
A year ago, record-breaking Yorkshire were the leaders of the pack at Aldeburgh Golf Club after a thrilling finale.
Having won two matches and drawn the other to share top spot with Gloucestershire, Yorkshire prevailed by half a point in terms of the overall game points.
Incredibly, it was the 22nd time Yorkshire had got their hands on the silverware.


THIS YEAR'S SQUADS
Somerset: Craig Adams, Thomas Burley, Sam Fernley, Thomas Plumb, Will Poole, Taylor Stote, Philip White
Kent: Joshua Bristow, Liam Burns, Mason Essam, Jensen Hull, Jacob Kelso, Ben Quinney, Tom Sherreard
Northumberland: Alex Dixon, Gary Donnison, Sean Heads, Matty Lamb, Andrew Minnikin, Phil Ridden, Mark Wharton
Nottinghamshire: Cole Betteridge, Jordan Boulton, Adam Dorricott, Martin Foulkes, Darren Kirton, Ross Overton, Mark Porter,


Somerset Golf Union's Qualification
Somerset came away from the magnificent Parkstone Golf Club as this years South Western Counties representatives in the National Final to be play at Huddersfield Golf Club in late September.
The 36 hole medal saw the 6 man Team Somerset romp to victory by 11 shots from last year's winners Gloucestershire. Somerset combined total of 14 under par included two outstanding rounds of 66 by Tom Plumb which left him 6 shots clear of Tom Sloman in Second place. With two quality internationals making their way from competition in Scotland to represent their County the stage was set and Team Somerset did not disappoint. Phil White, Tom Trowbridge, Johnny Grace and Craig Adams all played well and without a single poor round the other 5 Counties were left trailing.
The National Finals to be played at Huddersfield Golf Clubin late September gives Captain James Ward a selection headache as the above 6 are by no means sure of their inclusion. Availability of players may also play a part especially if Plumb and or Sloman achieve Walker Cup selection. Everyone would love to see both available for the Huddersfield finals but we all wish the lads every success in their pursuit of Walker Cup honours and their future professional careers .
Defending the Team Match Play Championship did not go as planned. Defeat to Gloucestershire on day one and Devon day two left the County facing a battle for the lower placings. Our match against Dorset who were two wins from two ended in a draw but left Team Somerset bottom of the table. Our fourth opponents Cornwall played their best golf of the week which left Wiltshire and Somerset to fight it out on the last day to avoid the wooded spoon. A very strong singles showing resulted in a commanding lunch time lead before match one in the pm foursomes secured a much needed win.
The team have come home once again with a clutch of trophies and the honour of representing the South West Counties, for the third time in the past five years! Maybe this time we can go one step further and become National Champion County a title that has just escaped our grasp in the past.
County President Geoff Ogdon, Chairman Tommy Tulk, Vice President Tony Mason, Vice-Captain Olly Worts, Executive Committee Members past and present have all played their part throughout the week. Russell Covey PGA and James Lambden have helped and guided the team throughout the year and both deserve credit as does Team Somerset's Captain
Team Score;
Craig Adams Farrington Park 74 -75- 149
Johnny Grace Saltford 75- 72- 147
Thomas Plumb Yeovil 66- 66 -132
Tom Sloman Taunton and Pickeridge 70- 68 -138
Tom Trowbridge Burnham and Berrow 70- 73- 143
Phil White Burnham and Berrow 70- 71- 141
---
THE OPPOSITION
NORTHHUMBERLAND GOLF UNION
Northumberland won the Northern Counties team championship at Alnmouth by 8 shots from Cheshire, with a total score of 872. The 36 hole event was played on Wednesday 7th August at Alnmouth (Foxton) golf club. The team of:- Matty Lamb, Sean Heads, Mark Wharton, Christian Brown, Gary Donnison and Andrew Minnikin.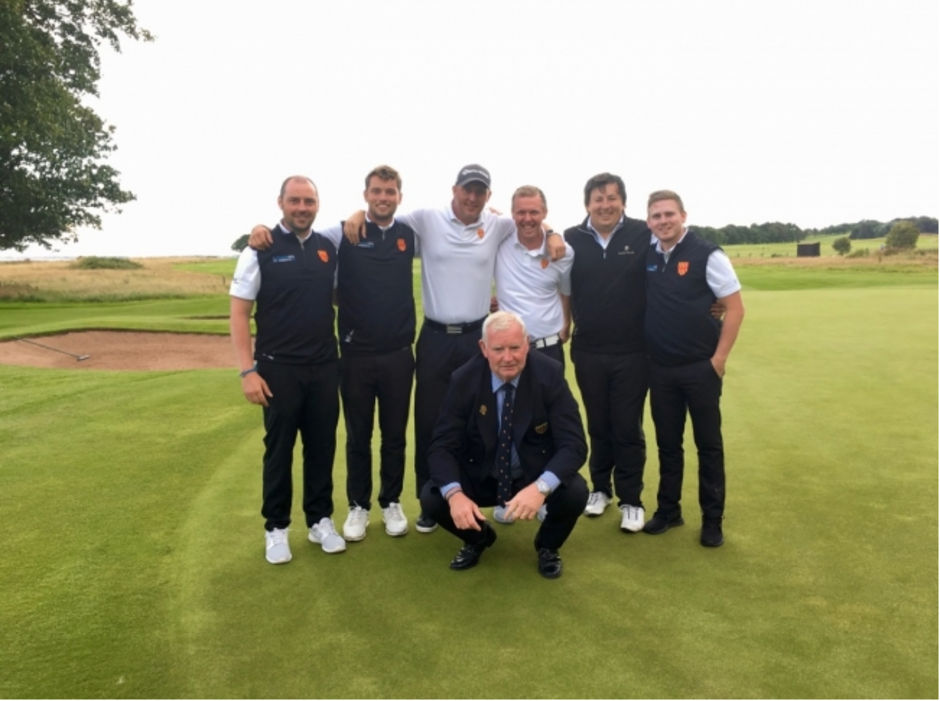 Northumberland winning side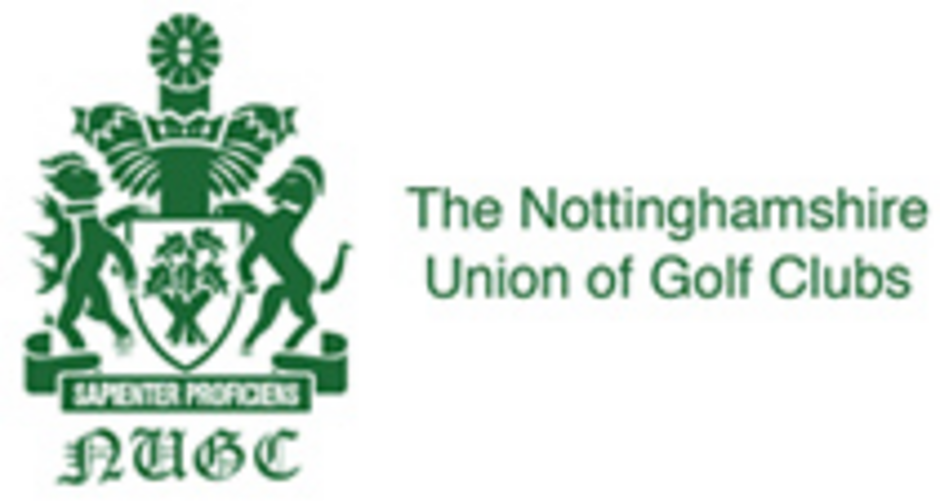 I t has been 40 years at least since the men last qualified and despite several close finishes over the years we have not managed to get over the line..
Mark Porter (Sherwood Forest) Jordon Boulton (Notts) Darren Kirton (College Pines) Cole Betteridge (Sherwood Forest) Adam Dorricott (Chilwell Manor) Ross Overton.
2nd place at the halfway stage on +5, trailing Lincolnshire by 5 shots the afternoon round saw a change of fortune and an 8 shot advantage with only one man to finish. Cometh the hour, cometh the man, Ross Overton produced one of his great finishes of a stellar career, 1 over par with 4 holes to play having struggled on the greens all day to hole anything, produced birdies at the 15th, 17th and then a stupendous drive on the par 5 18th hole and a stunning 9 iron to 12th feet was stuff of legends and despite holing nothing all day calmly rolled it in for an eagle 3, what a fitting way to end a very special day in our county's history.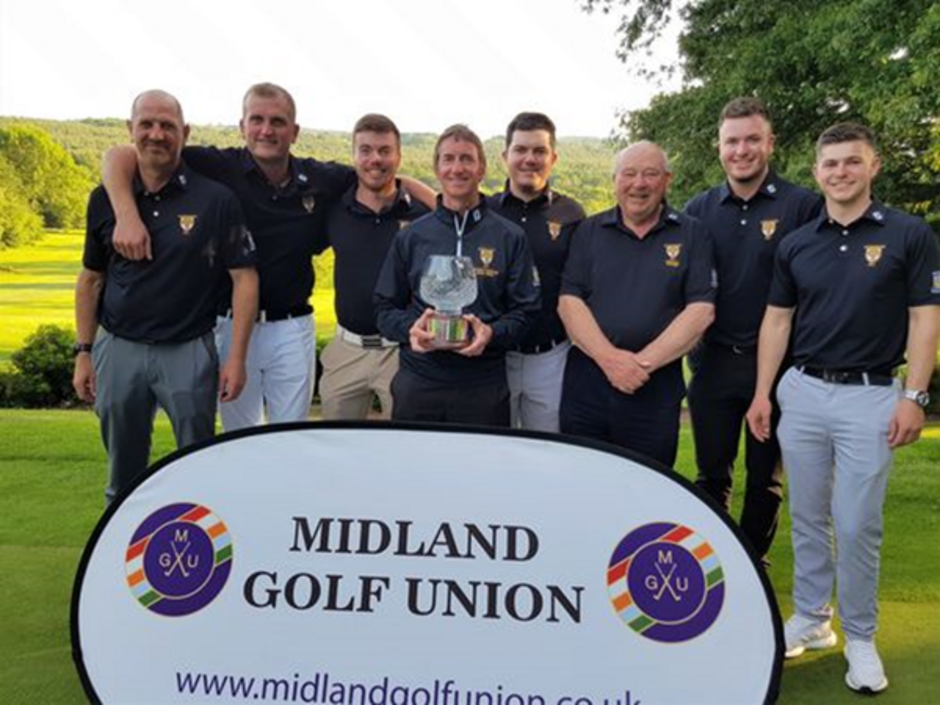 KENT GOLF UNION
​
Kent 1st Team


Kent win the England Golf South East Group Men's Qualifying - Ashford (Kent) Golf Club – 13th July
Kent win the England Golf South East Group Men's Qualifying - Ashford (Kent) Golf Club – 13th July
Kent led the morning round at 1 under par, just two shots ahead of Surrey and after some superb afternoon Golf including a 5 under par 66 from Kent Under 18's Captain Jacob Kelso Kent managed to extend the lead to 4 shots and a total of 7 under par.



Kent winning side


There are no competitions currently scheduled